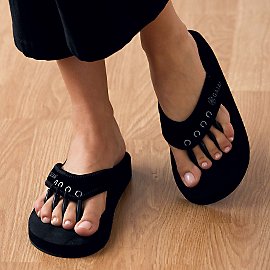 When I saw the term "yoga sandals", I thought "who wears sandals to do yoga?"
But then I read the description…
"Spread your toes" is a favorite yoga teacher mantra for a reason. Separating your toes improves your balance, flexibility and alignment. Worn around the house or on errands, our therapeutic sandals retrain your feet to do just that while also helping to relieve painful foot conditions.
Interesting indeed.   They still look like pedicure sandals to me.
Therapeutic strengthening yoga  sandals are  available from Gaiam.com.
[phpbay]pedicure, 2[/phpbay]