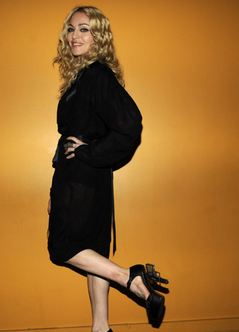 Celebrities are known to do the daring that most of us will never consider wearing. Let's look back on some of the outrageous shoes that celebrities have worn.
Lady Gaga's shoes are the epitome of extraordinary and bizarre fashion. One of the most memorable shoes she's worn is the futuristic line of shoes by Alexander Mcqueen. These shoes are extremely high heeled with one very skinny heel supporting a curved front.
The second pair is the Prada shoes with flames protruding out of the sides. These were worn by Katy Perry on an outing and she had paired them with a pink dress that had flames as well.
Ciara showed that she was bad to the bone with her black peep-toe pumps that had a unique heel. The heels had been shaped it into spooky vertebrae-like bones stacked up on each other.
The classy Marion Cotillard exuded her inner goddess with her unique shoes. These, otherwise, ordinary shoes had heels that were shaped into white fertility goddesses.
Madonna (shown above) let out her inner tough girl when she rocked a pair of Chanel pistol pumps with heels shaped like guns.
Some celebrities really know how to get the message across. Ashanti let her shoes do all the talking for her when she wore a pair of heels that had a middle finger sticking up attached to the side by designer Massamo Dogano.
While all of her other fellow female celebrities are wearing shoes with unique heels, Victoria Beckham decides to leap onto the other side of the spectrum and not have heels at all by wearing long sculpted platform boots that raised her heel off the ground but did not have anything supporting it.
Maybe Taylor Momsen was trying to say something about her preferences in the bedroom. At one of her on-stage performances, she chose to wear black boots that practically went up to her knees. But the real attention-grabber was the dozens of straps that went up these boots that made them look S&M-inspired.
Nicki Minaj, another celebrity known for her outrageous fashion choices, wore electrifying blue platform boots that were at least 5 inches off of the ground.
Beyonce chose to showcase her inner child by wearing Balenciago lego heels. These heels were fun and were brightly colored in yellow, blue, red, and green.
These are definitely not the end of celebrity's crazy shoes. We are certain that we'll be entertained by more crazy shoes in the future.
Author Bio: Hayley is a freelance blogger.  Looking to add some stylish footwear to your wardrobe this summer? Check out the 2013 shoe trends.