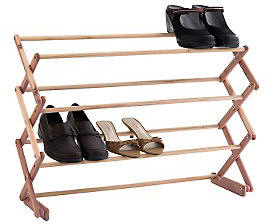 I'm always looking for new shoe storage options, and came across this Cedar Folding Shoe Rack.   Looks like a contraption my mother used to have in the utility room to hang wet clothing on if we couldn't hang them up outside on the clothes line.
And the description made me chuckle…
Specially designed to hold up to 12 pairs of women's shoes, this modular space-saver uses natural cedar wood to repel insects and keep closets smelling fresh.
I've never had a problem with insects attracted to my shoes and hope I never do!   If interested, you can buy a Cedar Folding Shoe Rack from Gaiam.com.   I'd just like to know where to buy the cute mary-jane mules on the top rack!
[phpbay]shoe rack, 2[/phpbay]