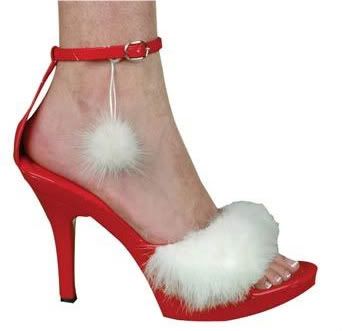 I've seen several sexy Christmas costumes, but this is the first pair of sexy Santa sandals I've seen!   Sexy Miss Santa Shoes are available for $24.99 from CostumeSuperCenter.com. Features a red sandal with white marabou trim and platform heel.
Update: The above sandals are currently sold out (boo). Might we suggest these:  Sexy Santa Stiletto Sandals.
Fabulicious

Red Satin 4 1/2 in. stiletto heel 1/4 platform, bow detail strappy sandal heel.