Uggs have comfort going for them, but the Australian sheepskin boots are truly ugly and may even pose a driving hazard. You don't have to toss your Uggs, just save them for weekend lounging at home in leggings and a boyfriend sweatshirt. Upgrade your footwear with these styles of boots instead:
Motorcycle Boots
With a D-ring holding leather straps together, motorcycle boots offer the perfect balance of hard and soft in women's boots. These boots are typically mid-calf boots and may not fit as snugly as tall boots. However, the extra room makes them great for wearing over jeans or for women with larger calves. AdTec and Pleaser offer a wide range of styles and colors of industrial boots, including these motorcycle boots.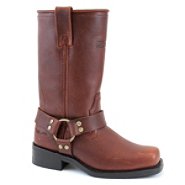 Suede Boots
If you love your Uggs and aren't really ready to transition to good-looking boots, suede boots work well as a transition. They've got the softness you love in your Uggs but are more grownup in style. Pair these over jeans or leggings, or wear them with a sweet skirt or a dress and tights for sophisticated and stylish workwear. Trend Report offers some comfortable styles that look nicer than Uggs.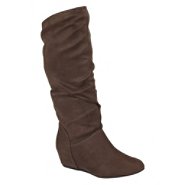 Booties
Low women's boots offer a practical and elegant solution for work-appropriate footwear. High-heeled booties offer elegance and height. Look for styles from Metaphor, Covington and Bongo. Wedge-heeled booties are on trend and work well with fall wardrobes, but aren't the most practical shoes for winter. Flat booties work well for chilly days and may be weather-safe, if they're made from rubber or are waterproofed. These are perfect with wide-legged pants that you can't tuck into boots.
Tall Boots
Tall riding boots have been on trend for a couple seasons now, and they're not going away. If you haven't splurged on this style of boot, now is the time. If you did buy tall boots and they're looking a bit old, consider upgrading your stash this season. You may choose high-heeled tall boots, but low boots are much more practical. Trend Report and SM New York have a variety of affordable and chic tall boots that just may tempt you out of your Uggs. Wear these over skinny jeans for a casual look or with dresses and tights to look cute on cold days.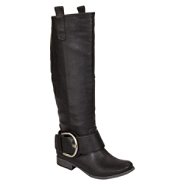 Wellies
Wellies or rain boots from Hunter or Wellington are chic — and expensive. If you wear Uggs in winter, then you know how the sleet and snow can discolor the sheepskin and make your ugly Uggs look even worse. Rubber rain boots offer the perfect solution because they're easy to wash. Add fleece or wool liners to the uninsulated rain boots to make then winter-ready. If you're not ready to splurge on hunters, look for boots from Kamik, Bogs or the Muck Book Company. Wear these on a dismal day to look cute and stay dry.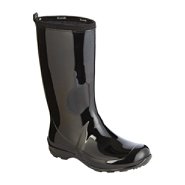 As you add new pairs of boots to your closet, experiment with wearing them with pants, skirts, dresses and leggings. You're sure to find some new looks that you really love and that class up your wardrobe way more than those Uggs. Think of Uggs as a tall pair of slippers and show your feet some class when you leave the house.
Danielle, who blogs on behalf of Sears and other prestigious brands, loves fall for mugs of hot cider, a good pair of boots and a sumptuous scarf. Read her work at eatbreatheblog.com.