What would you buy if you received a free $500 giftcard for Talbots? I know what I would buy – SHOES!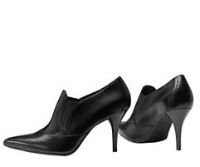 I fell in love with these new shoe arrivals at Talbots as I have been looking for a new pair of black booties to wear out on the town and a new pair of brown boots to wear to football games.
Italian Calfskin Sleek Booties (shown left), $129 Leather uppers, stretch gores, 3 ¼" heels, rubber soles. Petra.
Wingtip Boots (shown right), $179 Wingtip accents pick up on the season's menswear-inspired look. Side zippers, 2 ½" heels, rubber soles. Darcy.
I also found some Croco Embossed Mahogany Platform Pumps for $139 and a Leopard haircalf double-handled bag for $159 that would also buy if I received a $500 gift card.   Isn't pretending fun?

If you've been following the red chair confessions blog as I have been, you'll know the confession revealed was Talbots!   Talbots has changed their store image to be more hip, modern, and the best part of all "" more affordable! Talbots is no longer a store for your grandmother!
I didn't have time to check out the Talbots store while shopping in Sioux Falls yesterday. And can you believe that I did not buy one pair of shoes while shopping?! Me either. Guess I now have two reasons to go back!