Women spend a lot of time looking for the best sports shoe. What defines "˜best' varies among women but two options are non-negotiable: style and fit. With the hundreds of thousands of sports shoes available, how does a woman decide which one to purchase? This is your chance to sit back because we already did the research. Here are five sports shoes to die for.
EccoBiom Trainer 1.2
The best part of the EccoBiom Trainer is that your foot is able to function as if you were barefoot. The benefits of barefoot running have been discussed everywhere this past year, but many people have hesitated to run shoeless. Now there is a sneaker that gives you the same benefits. According to its developers, "The BIOM activates muscles, ligaments and tendons as if you were barefoot."
They look great too. They come in many colors with one of the most popular being BLACK-SILVER PINK RIBBON. It has a black base with silver around the edges. Shoelaces are bright pink which contrast stylishly against the shoe. The EccoBiom is a top of the line running sneaker coveted by beginning and experienced runners.
Be&D Big City Pump Silhouette Sneaker, Pink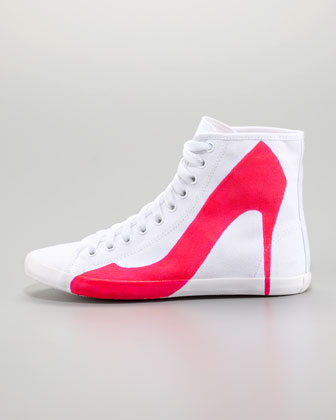 What makes the Be&D Big City Pump Silhouette Sneaker unique? It's the can't-miss pink pump painted on the side of the white sneaker! This canvas sport shoe is imported. You can choose from other high heel colors but the base is always white.
The hi-tops have a round toe and white laces. The footbed is made of cushioned fabric and the rubber-base and outsole are approximately ½". Chances are you will be the only one on the street sporting this design which shows how women have to make a decision every time they leave the house- heels or sports shoes?
Reebok Design Your Own Zigtech Shark
You actually get to design your own sneaker when you go with this Reebok line. You can choose one of the templates or design, create and personalize your own unique sneaker. The newest style is the zigtech shark.
No matter which one you choose people will notice how stylish you are because each pair looks like an original. The zig-zag sole cushions your foot when running and with 20-degree backwards angle along the sole you have impressive durability. As your foot hits the ground they bed for maximum comfort.
Image Credit
Diorite Adizero- Women's Adidas by Stella McCartney
Not only are these sports shoes light as a feather, they are offered in a variety of fresh colors. They have discreetly hidden loops. The Diorite Adizerosports shoes have a SPRINTFRAME which makes increases stability and yet feels natural. The SPRINTFAME is unique to the Adizero.
The New Balance Minimus 1010 Trail Runner
The newest update on the trail runner is exceptionally stylish yet also incredibly durable. The Minimus collection was developed to make running enjoyable for not only the avid runner but also for women with gait issues or chronic injuries so that they can perfect their form. They have a 4 mm drop which mimimalists will love. They also have a lot of cushioning. You don't even need to wear socks!The Minimus 1010 is eye-catching. The colors are bright- Baha Blue with Orange, Purple with Yellow, and Gray with Pink.
Choose any pair from this list and you can guarantee you will find a good fit. What's more, with these 5 best sports shoes to die for you'll soon be exercising- or hanging out- in style.
Jennifer is a sports nut and writer who loves getting value for money when it comes to getting a sports betting bonus.