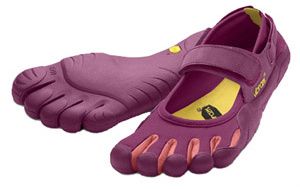 Now, pink may be favorite color, and I love Mary-Jane style shoes, but I still wouldn't be caught dead wearing these Vibram FiveFingers Women's Sprint shoes. Many have tried to convince me how comfortable (and stimulating and fun and healthy, yadda, yadda, yadda) Vibram Five Fingers are, but I just absolutely cannot stand things between my toes. I rarely even wear flip-flops for that same reason.
Recently the fad of Fivefingers has caught on to celebrities, as seen below…
Pictures left to right…
Channing Tatum wore Vibram Five Fingers KSO while visiting an art gallery in SoHo, New York City (source: Just Jared). My daughter, ironically named Tatym has the hugest crush on Channing Tatum! She says when they get married, she'll be Mrs. Tatym Tatum (pronounced the same).
Thomas Jane wore Vibram Five Fingers to the premiere of HBO's "Hung" (source: New York Post / WireImage).
Ex-NFL Player for the Titans and the Oiler (and Heisman Trophy Winner) Eddie George wore what appear to be black Vibram Five Fingers Flow to the 4th Annual DirecTv Celebrity Beach Bowl (source: BirthdayShoes.com Blog).
I couldn't find any photos of any celebrities wearing the Vibram Five Fingers Classic style. And I couldn't find any photos of any FEMALE celebrities wearing ANY Five Fingers styles. Guess those women are smart like me!?