Poetrie.com is a new online boutique inspired by five sisters that features trendy clothing, shoes, vintage inspired dresses and vintage jewelry. Of course, I had to check out the shoe selection first! Here are my top four Poetrie shoe picks: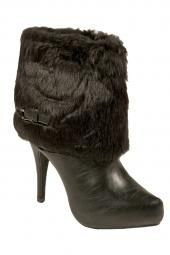 Your friends will growl with envy when they see you don these fur-covered boots. A black faux-fur fold over keeps your ankles toasty and cozy while a black buckle detail cinches the heel stylishly. This look is holiday perfection when paired with a fabulous cocktail dress and a black fur capelet.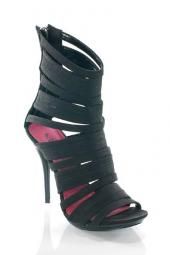 These jaw-dropping heels are guaranteed to add edge to any ensemble. Bands of black straps race upwards, only stopping a few inches up the ankle. Designed to beautifully cage the ankle, these heels offer a luxurious kind of entrapment.
These gorgeous boots speak for themselves! Made of suede, and over the knee these navy beauties are sure to be show stoppers this season with their gorgeous tie detailing and comfortable but edgy heel and fit!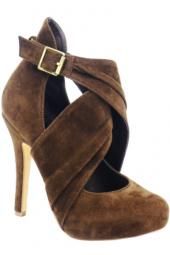 This fanciful pump is swathed in a brown velvety suede. Two sashes artfully twist and cross around the back to a delicate, tapered side buckle.
Poetrie.com also offers free shipping with $100 orders and free return shipping.   Which styles are your favorite?